Company Background
The Sims franchise, a life simulation dollhouse-esque video game series, was primarily developed by Maxis and The Sims Studio, which are in charge of production of The Sims and its expansions. Its most recent base game, The Sims 4, has sold over 5 million copies. The Sims Studio is a division within Maxis, which was bought out and gradually absorbed into EA (Electronic Arts) in 1997. Maxis officially packed up in 2004 and moved offices to EA centralized in Redwood City, California. Maxis produced the Sims 2 and aided in some expansion and stuff packs; however, by the time The Sims 3 was made, Maxis was out of the picture. By now, The Sims Studio had taken full control of The Sims 3 and its subsequent expansions. EA decided to bring back Maxis in 2012, but now it is referred to as "EA Maxis." This revived division within EA saw through the makings of later expansions packs for The Sims 3 in 2013. Together once more, The Sims Studio and EA Maxis went on to develop The Sims 4 in 2014 and later expansion packs, including The Sims 4 Cats & Dogs, which is set to release November 10, 2017.
The Sims 4 Cats & Dogs expansion pack is being heavily marketed for the avid Simmer waiting for the chance to play with man's best friend. What goes into the The Sims franchise's marketing campaign for this new expansion? What is their strategy? It is important to stay relevant in today's competitive gaming world, therefore, The Sims team wants as much publicity as they can get to promote their new product and make sales.
SWOT Analysis
First, I will provide a brief SWOT analysis of The Sims 4 Cats & Dogs franchise. A SWOT analysis assess strengths, weaknesses, opportunities, and threats that could affect a company's choices and capabilities.
Strengths
Favorable brand recognition

Routine coverage of game progress

Audience engagement and interaction via social media and Gamescom 2017
Weaknesses
High price

Requires a decent graphics card for optimization

Not available on Steam, which is a popular gaming distributor
Opportunties
Expanding platforms that the game is available on, aiding in searchability

Increase presence on less frequently used company social media accounts
Threats
Pirate copies of games

Potential backlash on forums after release

The gaming industry is a multibillion dollar industry, raking in more than $20 billion in 2015. With this in mind, coverage for The Sims 4 Cats & Dogs is centered mainly on Facebook, Twitter, and Youtube. The Sims franchise's demographic is mainly female, however, it still appeals to a male audience. Bramwell, former editor in chief for Eurogamer, said EA's data claimed that about 60% of The Sims players were female.
Social Media Presence
Facebook is used to target adolescents, young adults, and adults, who like and share content posted from the franchise's main Facebook page and other friends that are talking about the game. Facebook is primarily used to share announcements and content from their Twitter.
Twitter is used to primarily target those in the young adult range, ranging from 25 and 34 years old, which was Twitter's largest group of users in 2016. The Sims franchise's Twitter account is their most active platform. They promote The Sims 4 Cats & Dogs by retweeting content made by the community, posting hashtags relevant to their product on fan posts, and creating fan-requested custom pets that the community submitted.
Youtube is used to target a younger audience, like children, preteens, and adolescents. Their main Youtube channel promotes The Sims 4 Cats & Dogs by showing official trailer footage of the new expansion pack. As of October 27, 2017, the video has 95,000 likes compared to 1,000 dislikes. Almost always is an expansion pack trailer followed by actual, in-game, gameplay footage. This allows the audience to see what they will actually be buying, in comparison to a cinematographic trailer. I predict one will follow shortly before or after the official release of the game. Notable Youtubers will give their thoughts and reviews of The Sims games and expansion packs after their release. This will boost the brand and encourage others to buy the game. Word of mouth is an incredibly powerful marketing tool.
Zones of Social Media Marketing
All these different social media channels and other network outlets provide different Zones of Social Media Marketing.
Zone 1: Social Community
How The Sims team uses Facebook and Twitter is an example of Zone 1: Social Community. The Sims team replies to their fans that are excited about the game, increases engagement by hashtagging popular miscellaneous tags like #MondayMotivation, #FridayFun, #ShowUsYourBuilds, and more, all while engaging in the occasional meme.
Zone 2: Social Publishing
Zone 2: Social Publishing's best example is not managed by The Sims team, but rather, it is a collaborative effort of the game's fans– sims.wikia.com. Here, people are provided greater, in-depth information on the world of The Sims 4 Cats & Dogs.
Zone 3: Social Entertainment
Zone 3: Social Entertainment is dominated by their official Youtube channel and dedicated Youtubing Simmers unaffiliated with the official channel. 
Zone 4: Social Commerce
Zone 4: Social Commerce comes in the form of downloadable content. Their official Sims 4 DLC page includes an icon link to pre-order The Sims 4 Cats & Dogs. Most transactions are done through Origin, which is similar to Steam. It grants the ability to make online purchases and download a digital copy of the game, rather than a physical CD. In 2015, more than half of all game sales were digital.
Projections
The Sims 4 Cats & Dogs expansion pack is set to release November 10, 2017. The Sims 3 Pets expansion pack ranked #5 on The Top Tens list of best Sims 3 expansion packs. Personally, I believe the "pets" expansions are one of the most popular add-ons for The Sims franchise. With The Sims 4 base game selling over 5 million copies already, I expect the Cats & Dogs expansion pack to sell at least 500,000 copies (provided that 1 in every 10 simmer buys the expansion) in the oncoming months, especially with the holidays coming soon. With each copy selling for about $30, that equates to $15,000,000 for The Sims team.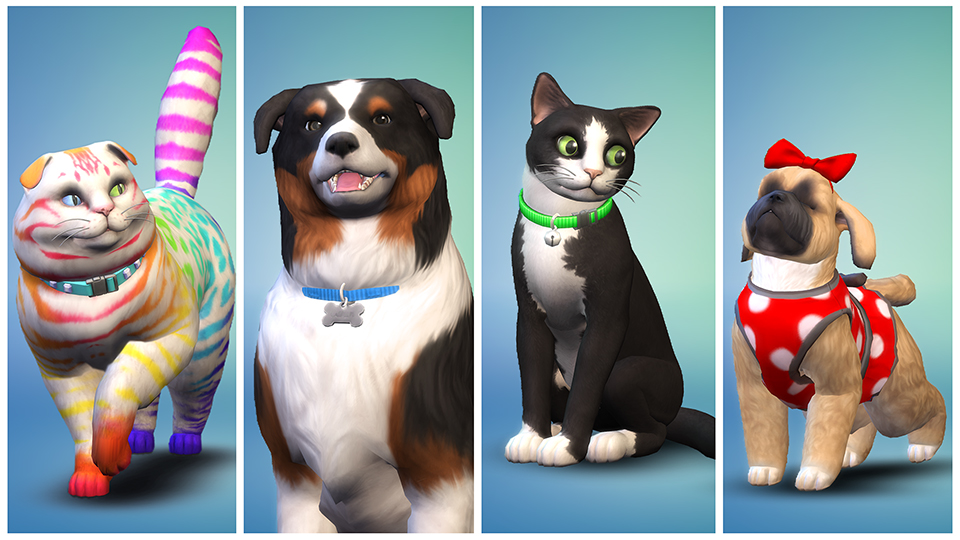 References
Bramwell, Tom. "The Sims Tops 24 Million." Archive.li, GamesIndustry.biz, 2 Nov. 2003,
archive.li/v6CgV.
"Distribution of Twitter Users in the United States as of December 2016, by Age Group."
Statista, Statista, Feb. 2017,
http://www.statista.com/statistics/192703/age-distribution-of-users-on-twitter-in-the-united-
states/.
Electronic Arts. "Company Information." About EA, Electronic Arts Inc., 14 Sept. 2017,
Electronic Arts. "Maxis Organizational Update." EA, Electronic Arts, 24 Sept. 2015,
http://www.ea.com/news/maxis-organizational-update.
Electronic Arts. "Maxis Unveils The Sims 4." EA, Electronic Arts, 6 May 2013,
http://www.ea.com/news/maxis-unveils-the-sims-4.
Feldman, Curt. "Electronic Arts Moves Maxis." GameSpot, CBS Interactive Inc, 11 Feb.
2004, http://www.gamespot.com/articles/electronic-arts-moves-maxis/1100-6089213/.
Frank, Allegra. "Take a Look at the Average American Gamer in New Survey Findings."
Polygon, VOX Media, 29 Apr. 2016,
http://www.polygon.com/2016/4/29/11539102/gaming-stats-2016-esa-essential-facts.
Plunkett, Luke. "A History Of Maxis: Thanks For SimCity." Kotaku, Gizmodo Media Group,
4 Mar. 2015, kotaku.com/a-history-of-maxis-thanks-for-simcity-1689490370.
Sarkar, Samit. "Maxis Boss Lucy Bradshaw Leaves EA, Studio Being Brought under EA's
Mobile Division." Polygon, VOX Media, 24 Sept. 2015,
http://www.polygon.com/2015/9/24/9392697/ea-maxis-lucy-bradshaw-departs-mobile.
SimsVIP. "EA's Press Conference Live at Gamescom 2017 (REPLAY)." SimsVIP,
SimsVIP.com, 20 Aug. 2017, simsvip.com/2017/08/20/watch-live-ea-live-gamescom-2017/.
SimsVIP. "The Sims 4 Base Game Breaks 5 Million Copies Sold." SimsVIP, SimsVIP.com,
12 June 2016, simsvip.com/2016/06/12/sims-4-base-game-breaks-5-million-copies-sold/.
"The Sims 4 Cats & Dogs: Official Reveal Trailer." Youtube, Uploaded by The Sims, 21
August 2017, https://www.youtube.com/watch?v=OFWb3lgRpcE.
TheTopTens. "Best Sims 3 Expansion Packs." Best Sims 3 Expansion Packs – Top Ten List –
TheTopTens®, TheTopTens, 2017, http://www.thetoptens.com/best-sims-3-expansion-packs/.